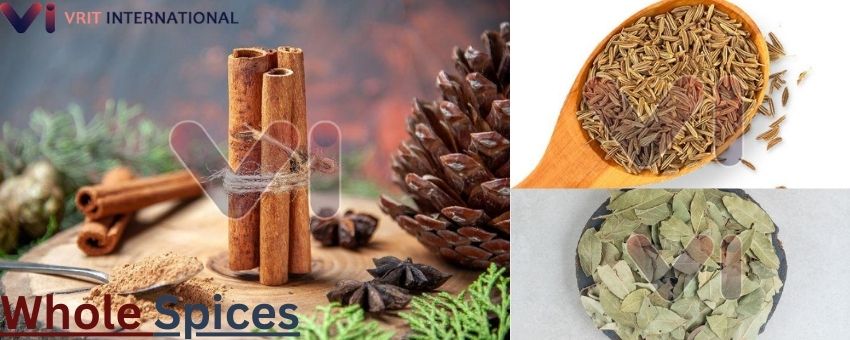 India is a great resource of whole spices, thanks to its ancient culinary tradition. The country has a vast range of whole spices that give depth and flavor to recipes, ranging from fragrant cloves to scorching red chilies. With the growing global demand for authentic Indian flavors, Whole Spices Exporters in India are playing an important part in gratifying the taste buds of spice fans everywhere.
Whole spice exporters provide a wide range of spices, that includes cumin seeds, coriander seeds, turmeric powder, fenugreek seeds, cardamom pods, and many more as whole spices are just not limited to the mentioned one. Each spice has a distinct flavor character as well as culinary advantages that add depth and complexity to recipes.
Because of the remarkable quality and authenticity of whole spices in Gujarat, the Gujarati whole spices are in high demand both domestically and globally. Therefore, whole spice exporters satisfy these expectations by enforcing strong quality control standards at every stage of the supply chain.
Types of whole spices
Indian spices are utilized in a variety of ways in Indian cuisine. They can be used whole or ground, fried or roasted, dry or as a paste, at the start or finish of cooking, alone or in mixtures. The whole spices include:
● Ajwain Seed
● Ani seed
● Asafoetida
● Black pepper
● Cardamon
● Celery
● Chilli
● Cinnamon
● Cloves
● Coriander
● Fennel
● Fenugreek
● Long pepper
● Nutmeg
● Poppy seed
● Rosemary
● Saffron
● Tamarind
● Thyme
These are some of the whole spices, there are many more as India is a hub of whole spices.
Significance of whole spices
Whole spices are the soul of Indian food. Therefore the significance of whole spices is mentioned below:
● When it comes to culinary experiences, the importance of whole spices cannot be overstated. These natural ingredients have been a vital part of Indian cuisine for ages, from cumin seeds that lend depth to curries to cinnamon sticks that infuse warmth into sweets. The flavors they give are unparalleled, making them a must-have component in kitchens throughout the world.
● With the growing popularity of Indian cuisine across the world, the demand for whole spices has increased significantly. This has spurred the expansion of whole spice exporters in Gujarat, who provide a diverse selection of items to this expanding market.
● The exporters of Whole Spices in Gujarat make sure that they comply with industry norms and adhere to high-quality standards, guaranteeing that clients obtain premium whole spices that are original, organic, and flavorful. So next time you reach out for those aromatic cumin seeds or fragrant cardamom pods, remember to search for Whole Spices Exporters in India.
Finally, Whole Spices Exporters in India export all types of whole spices for India's diverse culinary culture and even internationally. The Whole Spices Exporter's dedication to excellence means that every sprinkle of spice adds depth and character to dishes all across the world. Whether you're a professional chef or a home cook searching for a genuine gourmet experience, discovering whole spices will elevate your culinary skills and the food you cook, and to that if you add whole spices, it will be savory.